Naše ceny hotelů v Emirátech již zahrnují DPH ve výši 5%, poplatek obci ve výši 10% i poplatek za služby v ubytování ve výši 10%.
Best Price Guarantee
The price is valid for free seats in the most advantageous booking class

We calculate
the cost of your trip.
Please wait.
Krásná obřadní místa pro svatbu v zahraničí
Výběr obřadního místa, kde se má svatba v zahraničí uskutečnit, má svoji důležitost. Svatba v ráji na těch nejidyličtějších místech celého světa, kterou Vám naše cestovní kancelář nabízí, má mnoho podob. Pro milovníky té pravé romantiky nabízíme obřad přímo na pláži v písku, za zvuků šumění moře. Rovněž se můžete nechat oddat v krásně kvetoucí a omamně vonící zahradě přímo pod palmami nebo v pohádkových altáncích s doškovou střechou či luxusních hotelových restauracích. Specialitou jsou obřady na palubě katamaránu.
Místo svatby si sami vyberete z hotelové nabídky. Po příjezdu do hotelu Vám doporučujeme projít si jeho areál a udělat si představu o svatebním místě. Poté na recepci vyhledejte svatebního koordinátora a v jeho doprovodu se vyberte to pravé místo pro svou svatbu v ráji. Pak už se jen můžete těšit a užívat si jeho rajské krásy a výjimečnosti. Více inspirace než jen slova najdete na fotografících svateb v ráji, které vyfotila naše cestovní kancelář a mnoha dalších, které nám poskytli naši klienti. Doporučujeme Vám využít profesionálního svatebního fotografa na ostrově Mauricius Daniela Villiers, se kterým má naše cestovní kancelář vynikající zkušenosti.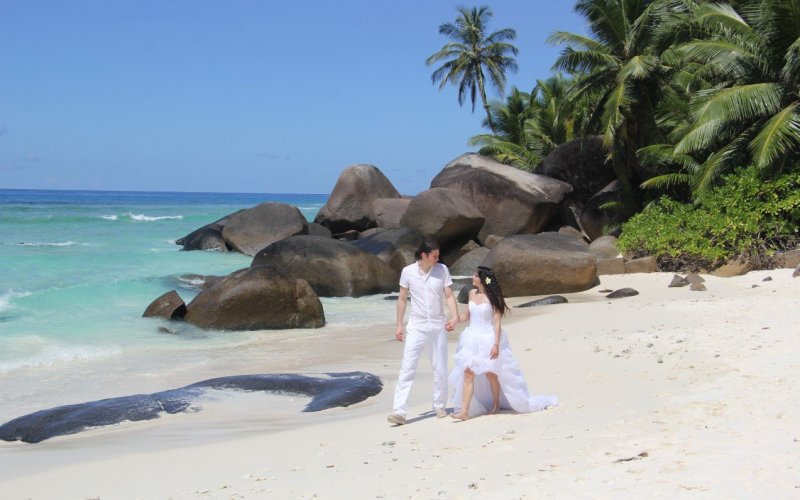 Naše tipy na hotely s krásnými obřadními místy:
Svatba na Seychelách - pláž Anse Lazio