Madagascar
Weather na Madagaskaru
Naše ceny hotelů v Emirátech již zahrnují DPH ve výši 5%, poplatek obci ve výši 10% i poplatek za služby v ubytování ve výši 10%.
Best Price Guarantee
The price is valid for free seats in the most advantageous booking class

We calculate
the cost of your trip.
Please wait.
Madagaskar má obecně subtropické klima s horkým a deštivým létem v období od listopadu do dubna a chladnou a suchou zimou od května do října. Počasí se však vcelku razantně mění v závislosti na nadmořské výšce a geografické pozici.
Západní pobřeží je oproti tomu východnímu sušší, jih pokrývá polopoušť a deště jsou v těchto místech velmi vzácné. Průměrné teploty v létě se pohybují od 27°C do 32°C, v zimě od 18°C do 22°C. Nejlepšími měsíci pro cestu na Madagaskar jsou měsíce v období květen až říjen.
Období dešťů trvá zpravidla od listopadu do března a na vysočinách ve vnitrozemí tou dobou mohou klesnout teploty i pod 10°C. Tropické bouře a cyklony ohrožují Madagaskar celoročně, nejčastěji však v lednu a únoru. Nejohroženější je východní pobřeží, avšak může být zasaženo i hlavní město. V období prosinec až březen je zejména ve východní části ostrova častý výskyt cyklónů.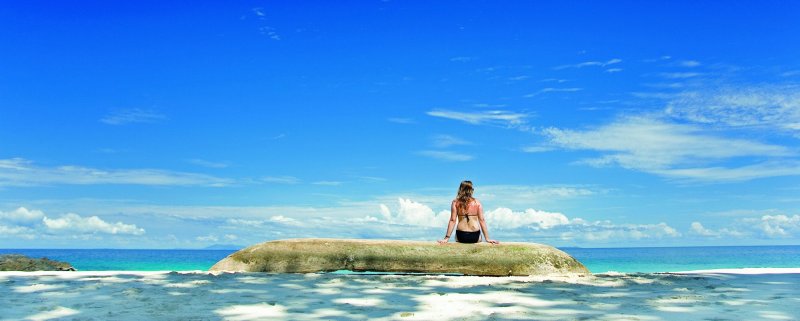 | | | | | | | | | | | | | |
| --- | --- | --- | --- | --- | --- | --- | --- | --- | --- | --- | --- | --- |
| Počasí a teploty na Madagaskaru |   |   |   |   |   |   |   |   |   |   |   |   |
| Měsíc | 1 | 2 | 3 | 4 | 5 | 6 | 7 | 8 | 9 | 10 | 11 | 12 |
| Prům. teplota (°C) | 26 | 26 | 26 | 25 | 24 | 23 | 22 | 22 | 22 | 23 | 24 | 25 |
| Telota moře (°C) | 25 | 26 | 26 | 26 | 25 | 24 | 23 | 23 | 23 | 23 | 24 | 24 |
| Průměrné srážky (mm) | 24 | 13 | 35 | 150 | 43 | 75 | 36 | 26 | 57 | 24 | 24 | 58 |
Aktuální počasí v destinaci Madagaskar
Antananarivo (letiště)
today 28. 05. 11:00 18˚C polojasno, 17:00 19˚C skoro jasno, 20:00 15˚C jasno
tomorrow 29. 05. 11:00 22˚C jasno, 17:00 15˚C jasno, 20:00 13˚C jasno
pozítří 30. 05. 11:00 22˚C jasno, 17:00 14˚C jasno, 20:00 12˚C jasno
Nosy Be (severní část ostrova)
today 28. 05. 11:00 25˚C jasno, 17:00 26˚C jasno, 20:00 26˚C jasno
tomorrow 29. 05. 11:00 25˚C jasno, 17:00 27˚C jasno, 20:00 27˚C jasno
pozítří 30. 05. 11:00 26˚C jasno, 17:00 28˚C jasno, 20:00 27˚C polojasno