Sri Lanka
Our recommendations - Srí Lanku we traveled
Nedotčená příroda a dlouhé zlatavé pláže
Láká vás poznání jedinečného spojení tradiční srílanské kultury, nedotčené přírody a dlouhé historie se zlatavými plážemi a ubytováním v prvotřídních hotelech? Potom dovolená na Srí Lance pro vás bude ideálním zážitkem. Srí Lanka je jako stvořená pro kombinaci poznávacího okruhu a plážové dovolené. Naši specialisté pobyty podobného typu na Srí Lance osobně zažili a rádi Vám předají své osobní zkušenosti a poznatky.
Doporučujeme se nejdříve vydat za poznáním (cca 5-8 nocí) a poté relaxovat libovolný počet nocí v plážovém hotelu. Z oblasti kulturního trojúhelníku zavítejte na čajové plantáže a dojděte až na "Konec světa". Zjistěte, jak je pohled na svět ze sloního hřbetu nádherný. Milovníci dobrého jídla musí ochutnat typické kari, hooper nebo některý z mnoha srílanských zákusků, např. mléčný pudink s karamelovou příchutí zvaný wattalappam či tvaroh s medem kiri peni. Chybět nesmí ani pravý cejlonský čaj.
Srí Lanku jsme opakovaně navštívili a poskytneme Vám osobní rady
Naši specialisté Srí Lanku pravidelně navštěvují. Mnozí z nich procestovali vnitrozemí Srí Lanky během poznávacího okruhu, jehož obdobnou podobu připravujeme také pro naše klienty. Samozřejmě nevynechali ani návštěvu pláží srílanského pobřeží. Se svými osobními radami a doporučeními se s vámi podělíme a připravíme vám zájezd na míru. Neváhejte nás kontaktovat a začněte s plánováním dovolené na Srí Lance již nyní.
I traveled the world.
ONLINE from 08:00

today 04.12. from 08:00 to 16:30
Pohodlný přílet na Srí Lanku se službami naší partnerské cestovní kanceláře
Pro pobyt na Srí Lance je potřeba vyřídit vízum ETA (buďto předem online nebo po příletu na Srí Lanku), které  společně s vyplněným imigračním formulářem odevzdáte na imigrační přepážce na letišti. Po výdeji zavazadel vyhledáte zástupce partnerské místní cestovní kanceláře Jetwing Travels před příletovou halou v místě zvaném "Paging point". Zástupce bude mít tabulku buď přímo s Vaším jménem (příp. s číslem letu, kterým jste přiletěli) nebo s nápisem Jetwing Travels. V odbavení zájezdu obdržíte telefonní číslo na anglicky hovořícího delegáta a letištního zástupce, kteří Vám budou po dobu vašeho pobytu v dispozici. Letiště na Srí Lance není tak velké jako letiště v Dubaji či jiných přestupních letištích, proto by měl být přílet jednoduchý a pohodlný.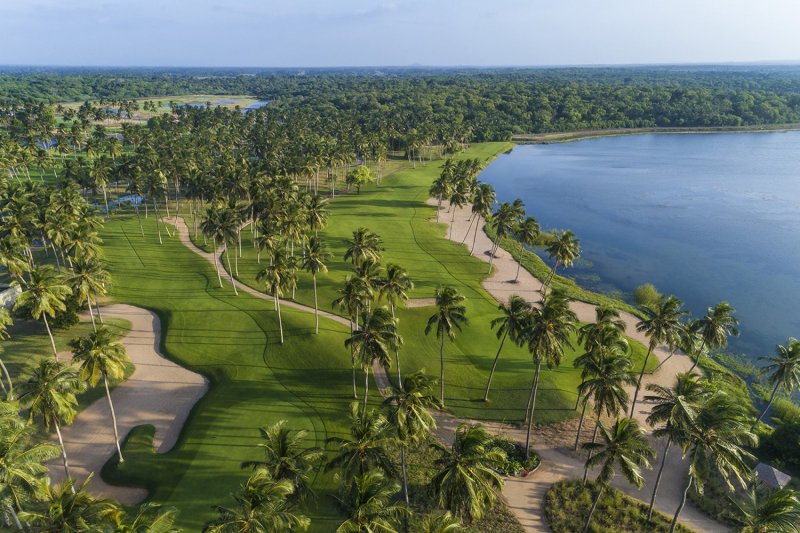 Kdy cestovat na Srí Lanku?
Srí Lanka, která se nachází pod Indickým poloostrovem, je specifická svou rozmanitostí. Nabízí cestovatelům odlišné podmínky na různých stranách ostrova. Pláže východního pobřeží mají nejlepší podmínky pro plážovou dovolenou v období od květen až do září. Na západním, jihozápadním a jižním pobřeží pak trvá hlavní sezóna od prosince do půlky dubna.  Během těchto měsíců se můžete těšit na nádherné počasí s teplotami přes 30°C a minimem srážek. Vnitrozemí je pak možné poznávat během obou výše zmíněných období, přičemž nejlepší podmínky trvají od ledna do května.
Na co na Srí Lance se nejvíc těší klienti DELUXEA
Který hotel je vhodný pro konkrétní skupinu klientů?
Pokud hledáte ideální ubytování pro rodinnou dovolenou na Srí Lance, z plážových hotelů doporučujeme Centara Ceysands či Jetwing Beach na západě či luxusní Shangri-La's Hambantota na jižním pobřeží se skvělým zázemím zahrnující jak prostorné pokoje (až pro 2 dospělé a 2 děti), tak také dětský klub a další zařízení. Rodinné pokoje najdete taktéž na východním pobřeží například v hotelu Maalu Maalu v klidné zátoce a mezonetovými vilkami.
Srí Lanka nabízí taktéž hotely s klidnou atmosférou a dostatkem soukromí pro romantickou dovolenou ve dvou či svatební cestu. Vyberte si jeden z intimních a resortů jako Saman Villas či Uga Bay nebo například hotel Serene Pavillions, který neakceptuje děti do 12 let.
Naprostá většina plážových hotelů na Srí Lance disponuje vlastními lázněmi či wellness centrem. Nicméně pokud si chcete dopřát lázeňské služby na nejvyšší úrovni, pak určitě nebudete litovat při volbě resortů Shangri-La's Hambantota nebo The Fortress.
Ideální základnou pro potápění a šnorchlování se pro Vaši dovolenou na Srí Lance může stát čtyřhvězdičkový Hikka Tranz na západě v oblastiu Hikkaduwa, která je známá pro své pobřeží s korálovými útesy. Na východě Vám pak hotely Maalu Maalu či Uga Bay poskytnou skvělé zázemí pro prozkoumávání mořského dna s vraky známých potopených lodí.
Abyste dokonale poznali vnitrozemí Srí Lanky, rádi Vám doporučíme hotely, kde zažijete opravdovou srílanskou atmosféru a pohostinnost. Hotel Cinnamon Lodge Habarana je vhodný pro ty, kdo hledají klid a pohodu ve svěží hotelové zahradě – ideální základna pro poznání kulturního trojúhelníku. Ve městě Kandy jako kulturním a uměleckém centru Srí Lanky pak můžete strávit několik nocí v hotelu Cinnamon Citadel s romantickým prostředím u řeky Mahaweli, zatímco pro poznání čajových plantáží zvolte stylové ubytování v bývalé továrně na čaj v podobě hotelu Heritance Tea Factory s elegantními pokoji a všudypřítomným srílanským čajem. Jestli toužíte po safari, oblíbenou volbou je Jetwing Yala nacházející se jak u hranic Národního parku Yala, tak také u divokých jižních pláží – dokonalá kombinace společně s moderními a prostornými pokoji i příjemným personálem.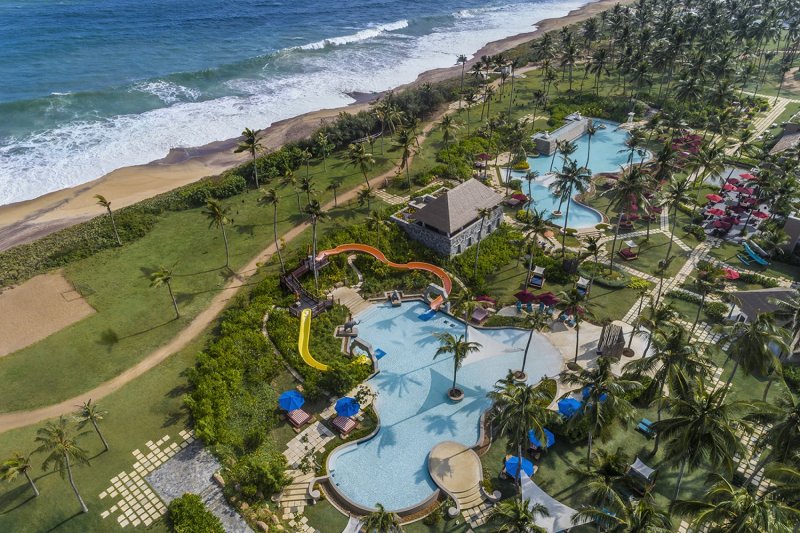 Srí Lanka jako bezpečná destinace pro Vaši dovolenou
Oficiální ukončení občanské války, která trvala téměř 30 let, výrazně přispívá k rozvoji země. Ačkoli je Srí Lanka země poměrně chudá, kriminalita zde není velká a hotely mají bezpečnostní službu. Přesto však doporučujeme věnovat náležitou pozornost Vašim cennostem (zejména penězům, mobilním telefonům a platebním kartám). Nikdy nenechávejte kameru nebo fotoaparát nehlídaný. V pokojích jsou k dispozici sejfy, kam si uložte Vaše cennosti, pasy a letenky.
Poradíme Vám
Rádi Vám doporučíme hotely, navštívené osobně našimi specialisty, a to jak na krásných dlouhých plážích či intimních zátokách, tak také v nedotčené přírodě rozmanitého vnitrozemí Srí Lanky. Vybírat můžete z nabídky kvalitních 4* a 5* hotelů.
Navštivte svět luxusu a unikátních příběhů

Location: Sri Lanka, Jih, Hambantota | Map

Meal:Breakfast, Half board, Full board
9.6

reviewed by

2

customers DELUXEA (

more

)
Nedotčené pláže jižního pobřeží
Golfové hřiště
Dokonalý servis pro náročné

Počítáme cenu Vašeho zájezdu. Vyčkejte prosím.
Luxus a pohodlí na východním pobřeží Srí Lanky
Specialist tips
Úžasná volba pro plážovou dovolenou na východě
Klidné prostředí
Komfortní ubytování a prvotřídní služby


Počítáme cenu Vašeho zájezdu. Vyčkejte prosím.
Místo dokonalé srílanské harmonie s úžasným zázemím pro dovolenou
Location: Sri Lanka, Východ, Passikudah | Map
Meal:Breakfast, Half board, Full board
8.9
reviewed by 3 customers DELUXEA (more)
Specialist tips
Krásná pláž na východním pobřeží
Jeden z nejlepších resortů na východě
Koncept rybářské vesničky


Počítáme cenu Vašeho zájezdu. Vyčkejte prosím.