Polynesia
Our recommendations - Polynésii we traveled
Jedinečné kouzlo Polynésie
Polynésie je považována za drahocennou perlu Pacifiku. Na své si přijdou milovníci přírody, gurmáni, ale také sportovci. Po příletu na Tahiti je nejlepší strávit první dny spojené s aklimatizací na ostrově Moorea, kam přeletíte za 15 minut.
V jeho vnitrozemí najdete hory a vodopády, plantáže ananasů, vanilky či bavlníků. Rodiny s dětmi zaujme delfinárium. Na odpočinek jsou vhodnější ostrov Bora Bora s nejfotogeničtější lagunou světa a nedotčený i divoký Huahine. Výborný zážitek přináší exkurze na krmení žraloků ukončená rautem pod palmami. Klidné atoly s panenskou přírodou Tikehau a Rangiroa jsou nejlepší i pro potápěče.
Největší luxus nabízí malinký privátní ostrov Le Taha'a, provoněný vanilkou z místních plantáží.
Hlavní ostrov Tahiti si naplánujte na konec. Písek je zde černý a koupání není až tak atraktivní. 
Polynésii jsme navštívili a poskytneme Vám osobní rady
Polynésie uchvátila snad každého, kdo s námi cestoval do tohoto ráje. Je specializací cestovní kanceláře Deluxea a.s. již po mnoho let. Naši zaměstnanci Francouzskou Polynésii opakovaně navštívili a rádi Vám předají osobní rady při výběru hotelu v destinaci. Výběr resortů v Polynésii. Hotely jsme osobně navštívili a našim klientům rádi poradíme osobně.
I traveled the world.
ONLINE on Monday

on Monday 04.12. from 08:00 to 14:00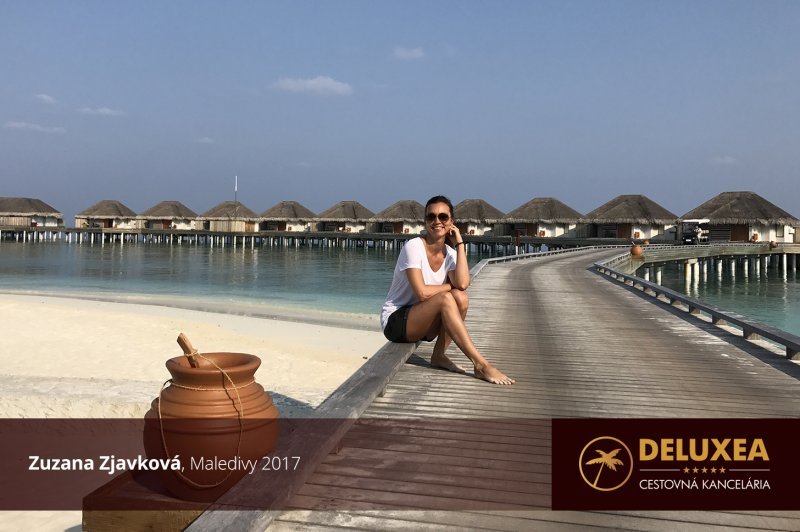 Ráj v Pacifiku s nejkrásnějšími lagunami světa
Smaragdově zbarvené vody jihovýchodního Pacifiku poseté stovkami korálových atolů a ostrůvků s bohatou tropickou vegetací olemovanou bělostnými plážemi a pestrý podmořský život v lagunách mnoha odstínů ve Vás vzbudí pocit toho nejdokonalejšího místa na zemi. 
Zájezdy do Polynésie připravujeme individuálně. Nejlepší volbou je kombinace několika ostrovů. Doporučujeme Vám ihned po příletu pokračovat na Moorea a zde se aklimatizovat. Do programu rozhodně musíte zařadit Bora Bora, jeden z nejkrásnějších ostrovů světa. A přidat můžete ještě nějaký jiný. Pobyt ukončíte na Tahiti, kde je někdy potřeba strávit minimálně poslední noc před odletem (v případě brzkého odletu). Přelety mezi ostrovy, které realizuje Air Tahiti, budete mít potvrzeny v přesných časech již při objednávce zájezdu. Vždy po příletu na každý ostrov na Vás bude čekat místní delegát či zástupce Vašeho hotelu a zajistí Vám transfer.
Souostroví Francouzské Polynésie
Francouzská Polynésie se skládá ze 118 obydlených ostrovů rozdělených do pěti souostroví - Society, Tuamotu, Gambier, Markézy a Austrály. Nejrozsáhlejší jsou Society s hlavním městem Papeete na nejznámějším ostrově Tahiti. Můžete zde navštívit například muzeum Paula Gauguina, muzeum perel nebo pestré místní trhy. Pláže sopečného původu jsou zbarvené do černa. Menší a poklidnější je okázalý ostrov Moorea s nádhernou přírodou, kde sopečné vrcholky kontrastují s tyrkysovými vodami laguny. Uvolněnou atmosféru Vám poskytne tajuplný ostrov Huahine. Posvátný ostrov Raiatea spolu s vanilkovým ostrovem Taha'a sdílí společnou lagunu a umožní Vám poznat pravý polynéský životní styl. Je nejideálnější pro plachtění. Největším klenotem mezi ostrovy je úchvatný Bora Bora uprostřed skvostné laguny, která je považována za nejkrásnější na světě. Jeho sopečný původ je znát ze tří vrcholků majestátně se tyčících nad obzorem, největší Otemanu ční až do výšky 727 m.n.m. Rozmanitost ostrova udělá z Vašeho pobytu pestrou kombinaci relaxace u vody a poznávání divoké přírody. Dalším nejnavštěvovanějším souostrovím je Tuamotu s největším atolem v Polynésii - atolem Rangiora, kde si užijete nejkrásnější místa na potápění. Panenskou přírodu můžete obdivovat i na sousedním atolu Tikehau s růžovým pískem. Kdo dává přednost aktivnímu poznávání kulturních, historických a přírodních zajímavostí před poklidným pobytem na pláži, bude jistě okouzlen mystickými zážitky na souostroví Markézy. Austrály jsou roztroušeny ve velkých vzdálenostech na obratníku Kozoroha a malé souostroví Gambier leží ve vzdálenosti 1600 km od Tahiti.
Vedle perfektního potápění a šnorchlování můžete vyzkoušet vodní lyžování, jachting, surfování, kánoe, tenis, golf, pěší túry či horská kola. Místní obyvatelé jsou velmi přátelští, jejich kultura a pohostinnost Vás jistě okouzlí a přinese tolik potřebné uvolnění.
Praktické informace o Francouzské Polynésii
Elektřina: 220V 60 Hz, užívají se zde převážně 2 typy zásuvek. Se 2 kulatými kolíky nebo se 2 plochými kolíky.
Telefon: Na ostrovech lze použít telefonních budek na karty. Volání z hotelů bývá drahé. Na místě je možné si zapůjčit mobilní telefon, což bývá výhodnější než roamingový tarif Francouzská Polynésie – ČR.
Internet: Internetové kavárny naleznete na Papeete a Moorea.
Pošta: Pošta do Evropy bývá většinou doručena za 8 dnů.
Očkování: Francouzská Polynésie nevyžaduje pro vstup žádná povinná očkování. Mezi doporučená patří očkování proti virové hepatitidě A. Všichni cestovatelé by si měli nechat zkontrolovat očkování proti tetanu a dětské obrně. Malárie se v této oblasti nevyskytuje.