Do Thajska nenabízíme přímé lety charterovým letadlem, které mohou být krátce před cestou zrušeny pro malou obsazenost. DELUXEA nabízí výhradně lety na pravidelných linkách s Emirates a Qatar Airways. Ty poskytují perfektní servis, návaznost při přestupu a hlavně jsou flexibilní s možností odletu několikrát v týdnu (z Prahy i Vídně).
Thailand
Our recommendations - Thajsko we traveled
Naše ceny hotelů v Emirátech již zahrnují DPH ve výši 5%, poplatek obci ve výši 10% i poplatek za služby v ubytování ve výši 10%.
Best Price Guarantee
The price is valid for free seats in the most advantageous booking class

We calculate
the cost of your trip.
Please wait.
Thajsko je rozmanitou zemí, kde si každý přijde na své!
Lenošení v houpacích sítích ve stínu kokosových palem, projíždky na slonech, šnorchlování u neobydlených ostrovů, čerstvé exotické ovoce, večerní grilování ryb před chvílí vylovených z moře a luxusní služby pravděpodobně zapříčiní, že se Vám z této překrásné země bude odjíždět jen velmi těžko. Záleží jen na Vás, jak svoji dovolenou prožijete - můžete si vybrat opuštěné pláže nebo centra plná života. Odpočinek v Thajsku můžete libovolně kombinovat na jednotlivých ostrovech. Klientům, kteří nechtějí strávit celou dovolenou v jedné destinaci, nabízíme možnost zastávky mezi lety v historické a bohaté Dubaji. 
Velkou výhodou Thajska je vysoká úroveň hotelů za velmi příznivé ceny.
Thajsko jsme opakovaně navštívili. Klientům, kteří využívají naše služby, poskytujeme nonstop poradenství.
Thajsko je specializací české cestovní kanceláře DELUXEA založené roku 1995. Zájezd do hotelu Vám připravíme na klíč, odlety jsou možné z Prahy nebo Vídně každý den, délka vašeho pobytu může být libovolná. Hotel, transfer a další služby pro Vás objednáváme přímo v Thajsku. S místní cestovní kanceláří Asian Trails s dlouholetými zkušenostmi a nejširším portfóliem služeb máme přímou spolupráci. Služby pro Vás nekupujeme u německé cestovní kanceláře a při cestování nebudete členy žádné skupiny. Pokud byste potřebovali jakoukoliv změnu v zájezdu, tak přímo my Vám vše v Thajsku vyřídíme, rychle a operativně. Postaráme se o Vás.
I traveled the world.
ONLINE tomorrow

tomorrow 08.12. from 08:00 to 14:00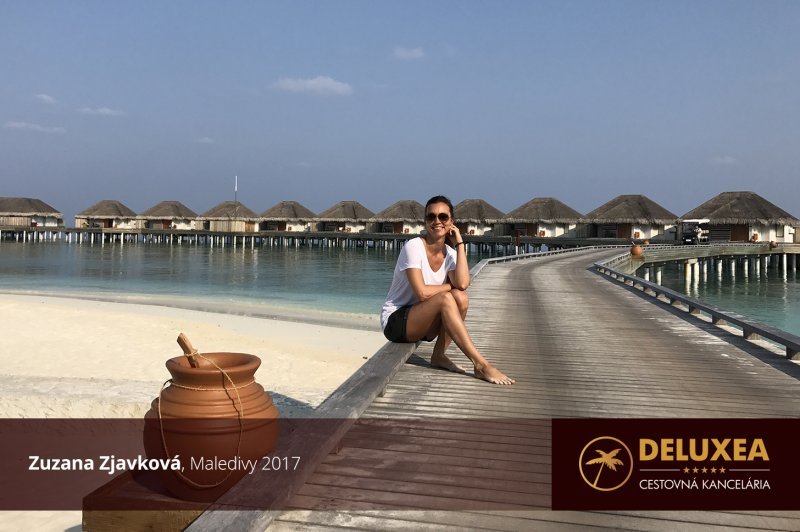 Stravování v Thajsku
Pokud toužíte po dovolené bez starostí, kde celý svůj pobyt strávíte pouze v hotelu, potom Thajsko nebude správnou volbou. Většina hotelů v Thajsku nabízí totiž jen snídaně, někdy polopenzi. Pouze výjimečně zde narazíte na právě slavný all inclusive.
Nemusíte se ale ničeho obávat, protože v Thajsku najdete stánky s občerstvením či restaurace úplně kdekoliv. Thajsko je známé svými nízkými cenami jak už stravy, tak různých služeb. K obědu si můžete dopřát například čerstvé exotické ovoce nebo šťávy, které Vám místní obyvatelé nabídnou kdekoliv na pláži či ve městě. Výborné jsou také thajské speciality, které Vám opravdu nejlépe připraví v místních restauracích.
Lehký ovocný oběd Vás potom může vyjít například na 50 thajských bahtů = cca 35 CZK.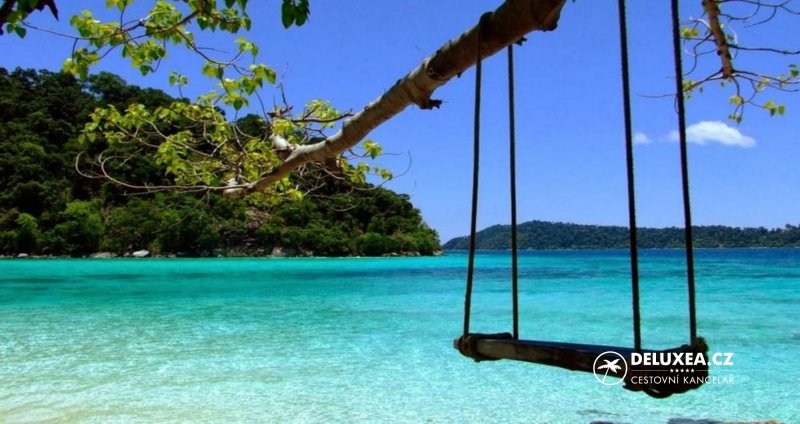 Které lokality doporučujeme navštívit v jednotlivých částech roku? 
Na většině území Thajska panuje tropické podnebí, které se vyznačuje střídáním období sucha a dešťů. Můžeme zde rozlišit tři období. Období dešťů začíná příchodem monzunu v červnu a končí v říjnu. Výjimkou je pouze lokalita okolo Koh Samui, kde je v letních měsících stále hlavní sezóna. Tato doba je nejlepší pro pozorování různých náboženských a kulturních festivalů. Chladné období panuje od listopadu do března. Teploty "klesnou" na 30 °C a výskyt srážek je minimální (výjimkou je opět ostrov Koh Samui, kde je v lednu období dešťů). Toto období je nejideálnějším pro návštěvu Thajska. Řeky a vodopády mají dostatek vody a celá krajina se krásně zelená po vydatných deštích. Teplé období je provázeno vysokými teplotami a také vyšší vlhkostí, což činí návštevu Thajska pro starší klientelu a rodiny s malými dětmi velmi náročnou.
Ubytování v Thajsku - tradice a luxus v jednom
Chcete se ubytovat přímo na pláži nebo máte raději výhled z několikapatrového hotelu? Ať už si vyberete cokoliv, Thajsko Vaše představy jistě naplní. Překvapí Vás nejen svou různorodostí, ale i širokou nabídkou a svými příznivými cenami, díky nimž si s námi můžete dovolit ubytování v prvotřídních pětihvězdičkových rezortech. Thajsko je plné tradic a luxusu zároveň. Seznamte se s naší aktuální nabídkou jedinečných hotelů. Rádi Vám pomůžeme s výběrem. Cenovou nabídku s podrobnou kalkulací Vám zašleme na požádání.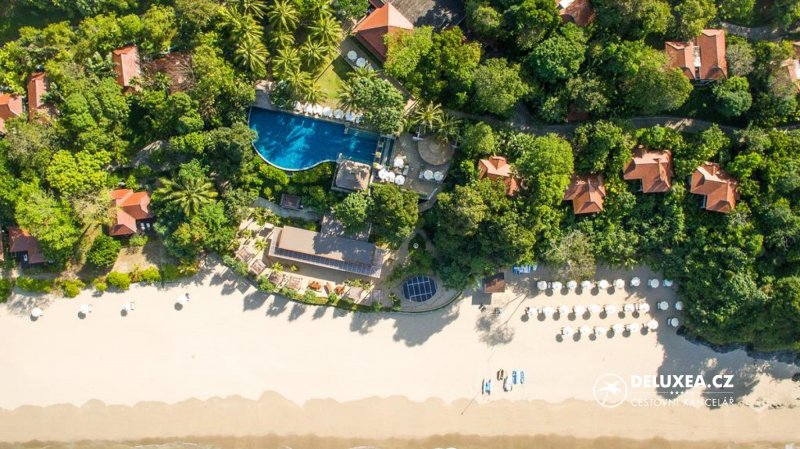 Vízová povinnost pro občany ČR byla zrušena. Na cestu do Thajska potřebujete pouze platný pas. Je ale nutné, aby jeho platnost byla v době vstupu více než 6 měsíců.
Při cestě do Thajska není vyžadováno žádné speciální očkování. Nebezpečí tropických chorob, jako je malárie, je v turistických centrech prakticky mizivé, profylaxe antimalariky není tudíž všeobecně doporučována (pokud nepobýváte v malarické oblasti, kterou je především džungle podél hranice s Malajsií). Očkování sice do Thajska není povinné, ale před cestou je vždy lepší informovat se o aktuální situaci v zemi na hygienické stanici, nebo v centru cestovní medicíny v Praze. Doporučujeme očkování alespoň proti hepatitidě typu A a B a břišnímu tyfu.
S DELUXEA nepoletíte charterem s několika stovkami Čechů a Slováků ve stejném letadle a autobusu z letiště do hotelu. Poradíme Vám hotely, kde nebudou stovky Čechů ve stejném hotelu (v některých jsou i čeští či slovenští animátoři např. u bazénu a večeře), ale maximálně pár jednotlivců. Náročným klientům pochopitelně doporučujeme spíše destinaci, kterou neovlivní davový charter našich spoluobčanů. 
Resort leží na nejkrásnější pláži Thajska.
Na okraji National Marine Park.
Elegance thajského stylu.
Počítáme cenu Vašeho zájezdu. Vyčkejte prosím.
Nejkrásnější pláže Thajska
Location: Thailand, Ko Lanta, Kan Tiang Beach | Map
Meal:Breakfast, Half board
Specialist tips
Dokonalé místo pro rodiny.
Bílé pláže s tyrkysovým mořem.
Nezapomenutelné výhledy na západ slunce.


Počítáme cenu Vašeho zájezdu. Vyčkejte prosím.
Specialist tips
Vily s vlastním bazénem.
Vyhlášené lázně.
Vynikající gastronomie.

Počítáme cenu Vašeho zájezdu. Vyčkejte prosím.
Specialist tips
Rezort pro dospělé
Nádherná dlouhá pláž
Exotické prostředí

Počítáme cenu Vašeho zájezdu. Vyčkejte prosím.