Naše ceny hotelů v Emirátech již zahrnují DPH ve výši 5%, poplatek obci ve výši 10% i poplatek za služby v ubytování ve výši 10%.
Best Price Guarantee
The price is valid for free seats in the most advantageous booking class

We calculate
the cost of your trip.
Please wait.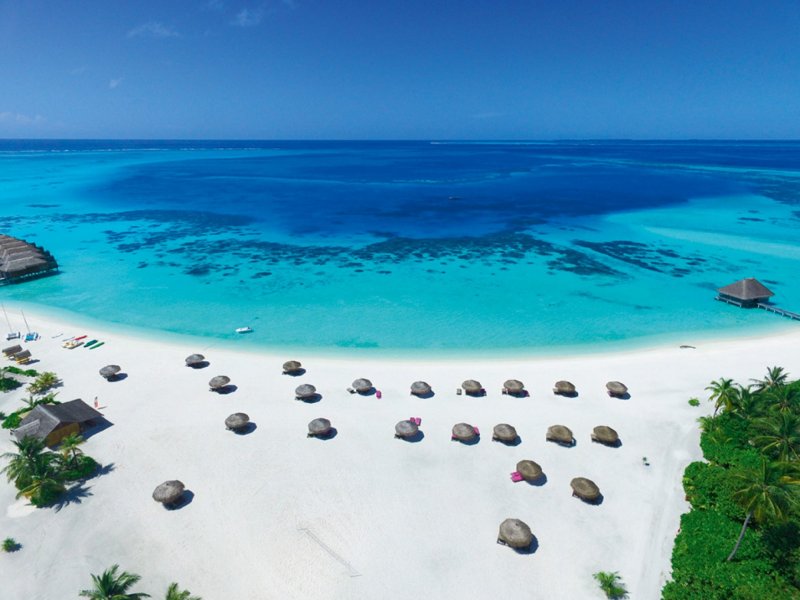 Jaká je místní kultura na Maledivách, jak ji poznat a respektovat?
Toto tropické souostroví je ideálním místem jak pro aktivní, tak pro odpočinkovou dovolenou a obzvláště si jej vychutnají všichni milovníci podmořského života, neboť šnorchlování a potápění je zde opravdu jedinečné. Jen pár kroků od břehu naleznete hejna barevných korálových rybiček plujících v křišťálově průzračném moři – nachází se zde více jak tři čtvrtiny všech druhů korálových ryb, které obývají tuto planetu. Fanoušci potápění si zde vychutnají vzrušení z přítomnosti mořských želv, rejnoků, murén, delfínů či velrybích žraloků.
Slavnosti
Většina maledivských svátků vychází z islámského lunárního kalendáře, což znamená, že každý rok vychází svátek na jiný den. Svátky a oslavy nijak nezasáhnou běžný denní provoz na resortu, avšak pokud se vydáte do Malé, bude mít většina obchodů zavřeno. Největší příliv turistů je tradičně v nejexponovanějších částech roku – Vánoce, Silvestr, Velikonoce a letní prázdniny.
Ramadán: cca konec září/ začátek října v době trvání 28 dní. Přesné datum se odvíjí ode dne, kdy je nový měsíc spatřen v Mekce.
Kuda Eid: oslava konce Ramadánu a vstupu do nového měsíce.
Bodu Eid: připadá na 66. den po skončení Ramadánu a trvá 5 – 7 dní
Muslimský Nový rok:
National Day: první den třetího měsíce lunárního kalendáře
Prorokovy narozeniny: cca polovina dubna
Výročí přistoupení Malediv k islámu
Huravee Day
Martyr's Day
Nový rok: 1. ledna
Den nezávislosti: 26. července
Den vítězství: 3. listopadu
Den republiky: 11. listopadu
Oblečení
Neboť leží Maledivy v tropickém pásmu, bude Vám stačit letní oblečení. Pro večerní posezení v otevřených restauracích však doporučujeme svetřík s dlouhým rukávem. K večeřím se vyloženě nevyžadují dlouhé kalhoty (pouze luxusní resorty 5* a 6*), ale mělo by být zachováno určité dekórum, neboť je toto považováno za hlavní jídlo dne, tudíž alespoň kraťasy či sukni byste měli mít. Nudismus je striktně zakázán vzhledem k islámskému náboženství místních obyvatel. Při návštěvě Malé či domorodého ostrova by se ženy neměly oblékat příliš vyzývavě. Nezapomeňte také na pokrývku hlavy, sluneční brýle a opalovací krém s vysokým UV faktorem, neboť slunce pálí i při oblačném podnebí.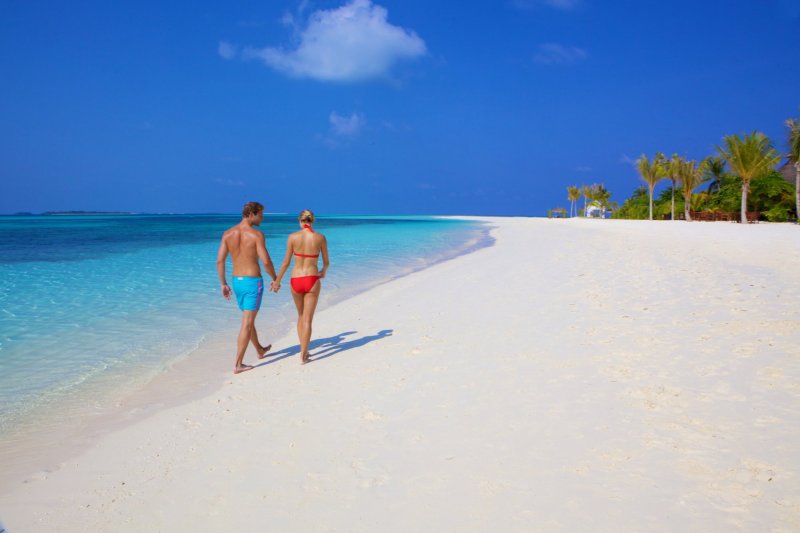 Strava
Prakticky mezi jediné plodiny, které se na Maledivách dají pěstovat, jsou kokosové palmy, mango a ananas. Vše ostatní je třeba dovážet. Tradiční maledivská kuchyně je indického typu – ostrá s příměsí kari a dalších koření. V resortech však naleznete rozmanitou nabídku jídel přizpůsobenou chutím evropských turistů (mezinárodní, středomořská, italská, francouzská, čínská, arabská kuchyně atd). Ve většině středisek se strava podává formou bufetů (sníte, co a kolik chcete), v těch nejluxusnějších resortech jsou však obědy a večeře formou a lá carte menu samozřejmě s výběrem z více jídel. Jídla jsou kvalitní a velice chutná (rozmanitost roste s kvalitou resortu), na jídelníčku si vždy něco vyberou i nejmenší turisti.
Etiketa
Maledivci jsou náležitě hrdí na své podmořské korálové bohatství a jsou velice striktní při dodržování pravidel ochrany životního prostředí, a to především co se týká vztahu ke korálům a mořským živočichům. Nudismus je přísně zakázán. Plavky či velice lehké oblečení jsou akceptovány pouze v resortech, na veřejnosti (hlavní město nebo domorodé ostrovy) mezi místními je lépe nosit sukni zakrývající alespoň stehna a alespoň krátký rukáv, ne příliš velký výstřih. Na domorodých ostrovech není zdvořilé příliš vyzývavé chování ani vzhled. Muži by neměli na veřejnosti chodit s odhalenou hrudí. Při úředním styku je požadováno formální oblečení – košile, dlouhé kalhoty a kravata, u žen dlouhá sukně a dlouhý rukáv. Úřední jednání bývají zdlouhavá, je třeba být trpělivý. Při vstupu do mešity se vždy zouvejte, vstup pouze v dlouhých kalhotách nebo dlouhé sukni a dlouhém rukávu. Mimo resorty nekoupíte žádný alkohol.
Suvenýry
Mezi tradiční suvenýry patří rukodělné a řezbářské předměty ze skořápek kokosových ořechů a výrobky z palmových listů (např. fotoalba). Krásné jsou také dřevěné miniatury lodí Dhoni anebo plachetnice. Zakoupíte zde velké množství Srí Lanských a Indických čajů, vodní dýmky, vějíře, různé skříňky, prostírání a výrobky z mušlí. Velice hezkým dárkem může být také CD s místní tradiční či moderní hudbou, saronga a bavlněné oděvy.